We are delighted to introduce our new, much-loved hair brand Davines to you! After endless research and testing of many products, The Green team fell head-over-heels in love with this beautiful, vegan, sustainable and ethical hair care brand that has Italian heritage and an unrivalled commitment to deliver outstanding hair products to hairdressers and consumers alike.
There's more to Davines' Essential Haircare line than meets the eye; a tool to promote the wellbeing of every hair type, but also a symbol of the brand's belief in sustainable beauty, each of the nine families in the range fulfils a specific function – with select products including an active ingredient from Italian Slow Food Presidia farms. Treating hair and the earth with equal importance, the Bollati family works with farms around Italy to protect biodiversity and spark positive environmental impact – an initiative that helped earn the brand its certified B-Corp badge.
A Single Shampoo is the product of our long-term commitment to sustainable beauty by combining the quality of a salon formulation with the highest levels of sustainability.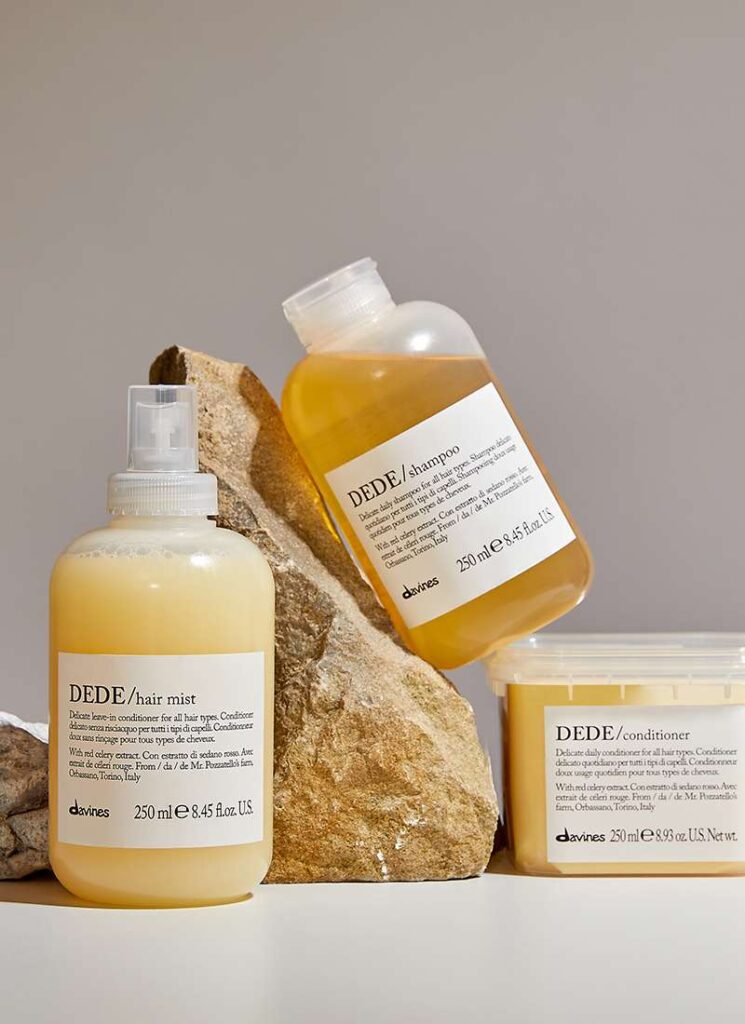 DEDE
ALL HAIR TYPES
The most delicate of all the families, DEDE ever-so-gently supplies hair with its daily needs – ideal for frequent shampooers or medium-fine to fine hair types. DEDE Shampoo features red celery from Orbassano, Piedmont – rich in mineral salts such as potassium, sodium and calcium to re-mineralise lacking locks.
NOUNOU
DAMAGED OR VERY DRY HAIR
Respite for chemically bleached, permed or relaxed hair, NOUNOU delivers deep nourishment and hydration to restore locks' natural softness. NOUNOU Shampoo contains Fiaschetto tomato from Carovigno, Puglia – a super-nourishing tomato variety rich in carbohydrates, proteins and antioxidant vitamin C.

LOVE
FRIZZY OR UNRULY HAIR
Tame hard-to-manage lengths with a little LOVE. This anti-frizz family enforces control, locking life smoothly into strands without weight. LOVE Shampoo is made with Minuta olive from Ficarra, Sicily – a Mediterranean wonder-ingredient packed with nourishing fatty acids and vitamins.
LOVE curl
WAVY OR CURLY HAIR
At The Green, we believe that Curls need LOVE, too. As all our curly-haired clients know – we are passionate that you are truly able to embrace your beautiful curls and tailor them to your features and lifestyle. This specialist take on the classic hydrates, nourishes and restores elasticity, giving curls and waves shine and bounce without disrupting weight or texture. LOVE curl Shampoo contains almond from Noto, Sicily for a boost of B-vitamins, vitamin E, unsaturated fatty acids, magnesium, iron and potassium to boot – for elasticised, beautifully conditioned curls.
VOLU
FINE OR LIMP HAIR
VOLU pumps up the volume – a solution for lifeless, lacklustre hair that also restores softness and shine. VOLU Shampoo features turnip from Caprauna, Piedmont, which encourages body with an intense dose of essential vitamins and minerals.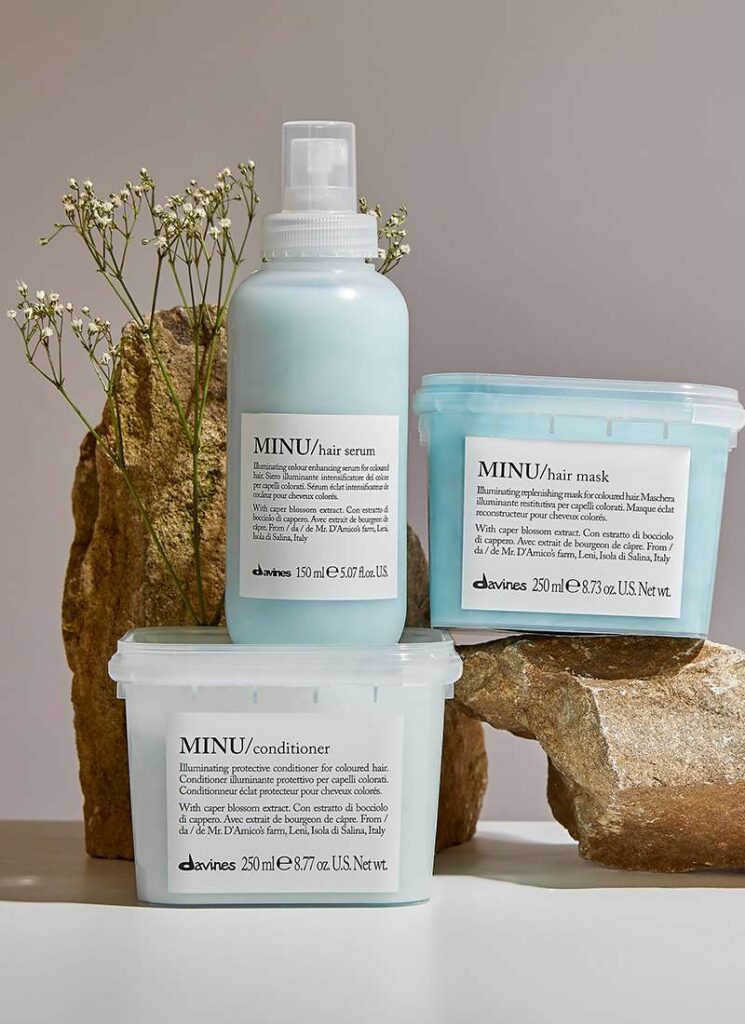 MINU
COLOURED HAIR
Seamless, long-lasting coloured hair is a specialism here in our Horsforth Hair Salon and that is why we're such huge fans of MINU. These products maximise and safeguard chemically coloured hair with an illuminating, protective and regenerating line-up. MINU Shampoo contains extract of Salina caper buds from Sicily for a powerful and protective antioxidant boost.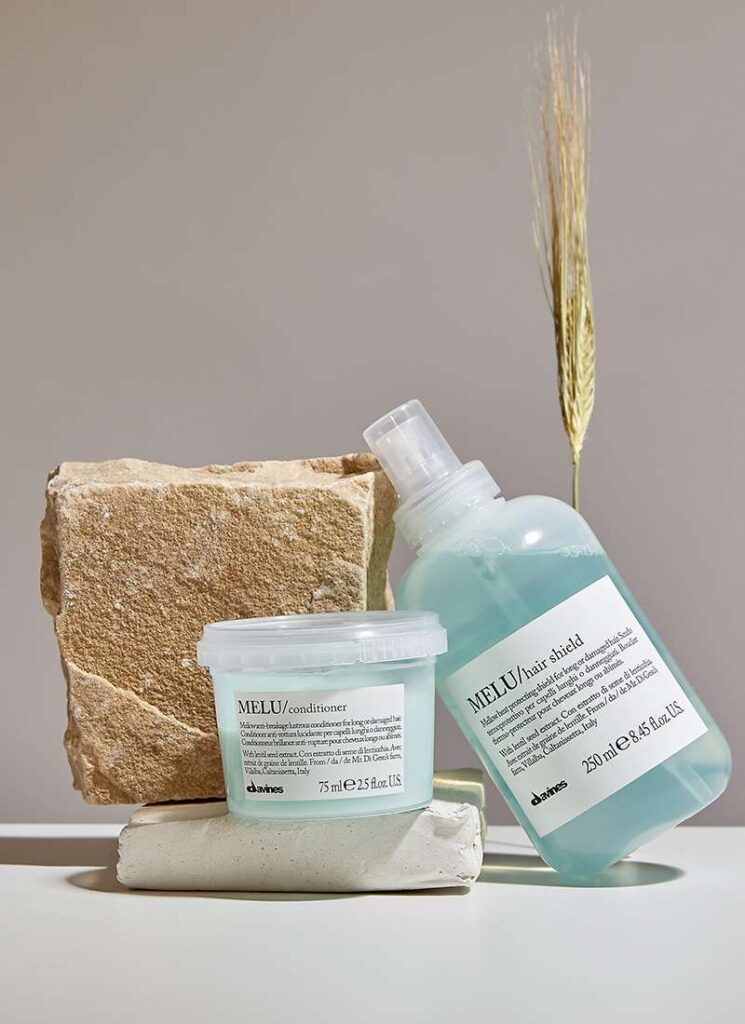 MELU
LONG OR DAMAGED HAIR
Bind brittle lengths with MELU – a family of anti-breakage remedies to strengthen and elasticise heat-damaged strands with a targeted nourishing action. MELU Shampoo features lentil from Villalba, Caltanissetta, an extract rich in serine and glutamic acid for unparalleled nourishment and repair.
Next time your visit us in the salon, expect to be introduced to this inspirational range of hair care shampoos, conditioners, treatments and styling products. We promised to delight!
If you would like to book an appointment at our hair salon in Horsforth, please contact our reception team or use our online booking service.